Not one, but two great Tgirl stories. The writer of this story dreams of this ladyboy. She is so HOT.😍
---
You open the door and there you are… Truly a beautiful, transwoman. White teeth and long hair, dark brown eyes. Wavy, shiny hair down to your shoulders. Your skin is brown from the sun. Your beautifully curved breasts poking into your top. A beautiful C-cup. A loose-fitting wrap skirt, loose around your hips and in your navel a beautiful piercing. Truly a very feminine woman! I extend my hand, give you three kisses and while doing so wrap my other arm around your slim waist, and you say sultry, Lustrous Aiden….
A woman with a big smile and a lovely body. With a little extra.😘 Later it will turn out, with quite a bit extra. We walk to my car and I hold the door open for you. When we arrive at the beach, we decide to first have a drink at a beach bar. We find a cozy spot in a love seat, so no one else can join us. We use the morning to get to know each other better. Not only that, but we tell each other a lot of things. I about my fantasies and you about the process you have been through. When I push a pill out of a strip at noon, you ask, what's that for? I say that's an erection pill. You burst out laughing and say, you don't need that at all! I saw that a long time ago!
Because of the skirt, you are wearing, unfortunately, I haven't been able to see anything on you. I tell her that I don't need it to get an erection, but it is so wonderful when it gets rock hard. And maybe even better, that it doesn't have to be just once. You give me a wink and say, give me one too.
After eating and drinking, we spread out our towel on the hot sand. You grab a bottle of sunscreen and start to rub me all over. You have very soft but very strong hands. Your tanned skin contrasts beautifully with the bright pink bikini top. With your beautiful black hair you casually put up, your breasts look very natural. You have a feminine, dark voice and sound a little hoarse. Delightfully sexy.
The sun burns mercilessly in the sky. Those little beads of sweat appear all over your body and that makes you irresistible. When it really starts to get too hot, you suggest we go to your house. Your parents are working and won't be home until late tonight, you tell them.
Text goes further below the video
When I get home, you lead me to the room where there is a Jacuzzi. In the large, walled garden there is also a swimming pool. You get down on your knees in front of me and put both your hands on my hips. You bury your nose, deep into my swim trunks and sniff the scent of my manhood, my sweat and my horniness. You grab my swim trunks and pull them down a little. Neatly shaved, a manly bundle of black curly pubic hair appears, which you wiggle your nose through and growl approvingly. Then you pull down my swimming trunks in one movement.
Because I'm getting pretty horny already and because the pill is doing its job too, my cock jumps up and slams against my belly. A smile forms on your lips and you close your eyes. With your warm, soft lips you press a kiss on my glans.
Then you stand up and finally let the wrap slide off your hips. Immediately understand why you weren't able to take off your wrap earlier…. The bright pink fabric of your bikini bottoms is stretched like a string. Where you would normally expect a venus mound, a substantial bulge is visible.
Immediately I fall to my knees and bury my nose in your venus mound. On both hips are bows and when I put my fingers on the ends, I look at you pleadingly. Again that sweet, horny smile, as a sign that it's okay… In one movement I pull both bows loose. The triangular piece of cloth doesn't immediately fall to the floor, it lingers on your manhood which now gets the chance to start growing. You shake your hips once, the piece of cloth falls to the ground and an imposing hulk emerges… My dream, far beyond my imagination.
Hard, big, beautiful, fresh, completely in proportion. From the base to the glans rim, at least 20 cm! And then an awesome, swollen glans as a crown on top. I don't start with kisses, I bite right down and take the throbbing glans between my lips. The fantasies that have passed my mind thousands of times all shoot past me. I lick your sensitive triangle. I alternately suck soft and hard on your delicious mushroom. I taste your pre-cum and I go absolutely crazy. With my lips locked around your glans, I grab the stem of your hard cock with my hand and with my other hand I massage your huge sac. I feel your big balls shoot off between my fingers. I smell the scent of cock and sniff it eagerly. It makes me go wild. Then I grab your buttocks with both hands and press you close to me. I try to take your cock as far down my throat as possible.
A fantasy comes true. I am sucking a cock for the first time in my life. And what a cock! All my objections or worries disappear like snow in the sun. I'm really going to do anything with this giant penis! You may cum deep in my throat, I want to jerk you off, massage your giant cock. You may fuck me deeply anally. You may cover me and smear me with your seed. You may fill my virgin starlet with your manly flesh and fill my bowels with streams of hot cum.
Easy, easy. The day is still long. You grab my head and have to practically pull my mouth loose from your cock. Your glans is swollen to the max and shining with my saliva and your precum. You take me to the Jacuzzi. Both your cock and my cock stand proudly erect. Although mine stands out a bit sharply against yours.
After drying off in the sun, you suggest we go to your room. Once there, you give me a firm push so that I am lying on my back on the bed. So you can suck so well? Then I'll make you feel something too! I love that dominance. But also a bit of a line through my fantasy. My fantasy is to totally spoil a female cock, to milk it, to cherish it… But here a piece of your masculinity comes up and you command me to spread my legs. In a few seconds, you have me chained to the bed. Then it's my arms' turn. You put on a show as if you were now going to give me a horrible blowjob.
But after a few pulls on my rock-hard cock and a few licks over my glans, the scenario suddenly seems to change. You come and sit with your buttocks on my face, your delicious poop hole right by my nose. Rimming has never been in my fantasy but I go crazy with horniness and stick my tongue out. I lick your dark starlet and you rub your ass firmly across my face. I can feel you lashing your pole vigorously with your hand. Then you come up a little and put a pillow in my neck so that my head is lying back a little. You put your shiny glans between my lips and command me to stick out my tongue as far as I can. You wanted deepthroat, you say. Then let's practice that. Quietly you push your hard member into my mouth. When about half of your throbbing manhood has disappeared into my mouth, I can already feel your glans in my throat. You pull your monster cock back a little bit and then go a little deeper again than you just did. I start to gag. Tongue sticking out further! And sure enough, that really works!
Even further, you push your gigantic tool down my throat. I feel my entire throat being filled with glans. Lick my pubic hair! With the tip of my tongue, I try to reach your pubic hair. But I won't make it for a long time. For you, this is the moment to thrust your full sex, deep into the back of my throat. With my nose deep in the soft, warm skin folds of your sack and the full length of your huge cock in my throat, I start to feel cramped. But here you have a solution. You spring up with your delicious ass a little, so that my nose is exposed again, and some air can enter via the back of my throat.
Then you lower yourself again. Rhythmically, you start fucking me deep in my throat. It takes some getting used to the rhythm to take a breath at the right times. But what a thrill! You fuck my throat with the most delicious cock there is. I really want you to squirt all your seed deep down my throat. I don't have to swallow, it goes straight down my gullet into my stomach. You, however, have other plans. My hands are untied and you lie on top of me in 69. You take my throbbing glans between your lips and drive your swollen glans back into my mouth. I taste your pre-cum and I suck it eagerly. For you, it is no problem at all to suck me deepthroat. A sensation I've never felt, with your sensitive glans deep in a woman's throat… Meanwhile, I knead your buttocks and search for your deliciousness with the tips of my index fingers.
The smooth skin of your delicious ass feels warm and firm. Both around your star and on your ass, no hairs to be found. I moisten my fingers with some saliva and they find your tight starlet. Alternating one finger and the other, I begin to finger your boy pussy. You moan and as a reward you suck harder and harder on my swollen glans. In this way we spur each other on and excite each other. Then you turn around, grab a bottle of lube and come and sit with both knees next to my chest. Your imposing penis swishes above my face. You drop some lube from the bottle onto your protruding cock and then take a wait-and-see attitude. With one hand I grasp the thick stem of your beautiful cock. When I then wrap my other hand around it as well, I don't even reach your glans… Rhythmically I now begin to jerk you off. With two hands. But I don't touch your head yet. Then you pull your ass back a little, feeling the yearning to stimulate your glans. Both my hands are now still and fairly firmly clenched. We feel each other perfectly. You let your delicious ass go up and down so that you are actually fucking my hands. I reward you by now encompassing your glans. With your delicious cock you now fuck my one hand and with the other I braid baskets over your glans. In your case, just say baskets….
The dominance is starting to come off a bit. You ask if you can fuck me, in my virgin star. No honey, I want to taste your seed first. You took a pill, remember? Then you'll have more stamina to take me in the ass. Your rhythmic movements become more uncontrolled and sluggish. Then I take over by pulling on your magnificent pole with my hands. Alternating now, both my hands weigh your heavy and well-filled sack, massaging the trunk of your gigantic hulk and flashing my fingers over your purple crown. From the thuds on my chest, I can tell it won't belong. You lose control and land your weight on my throat. With your full sack on my chin, your glans is level with my forehead. A great view, but this is not the way you are going to squirt into my mouth… Very briefly I have to interrupt the game and ask you to sit back a little. Then I start massaging your cock again with passion. With both full hands I now massage your majestic cock.
Text goes further below the photo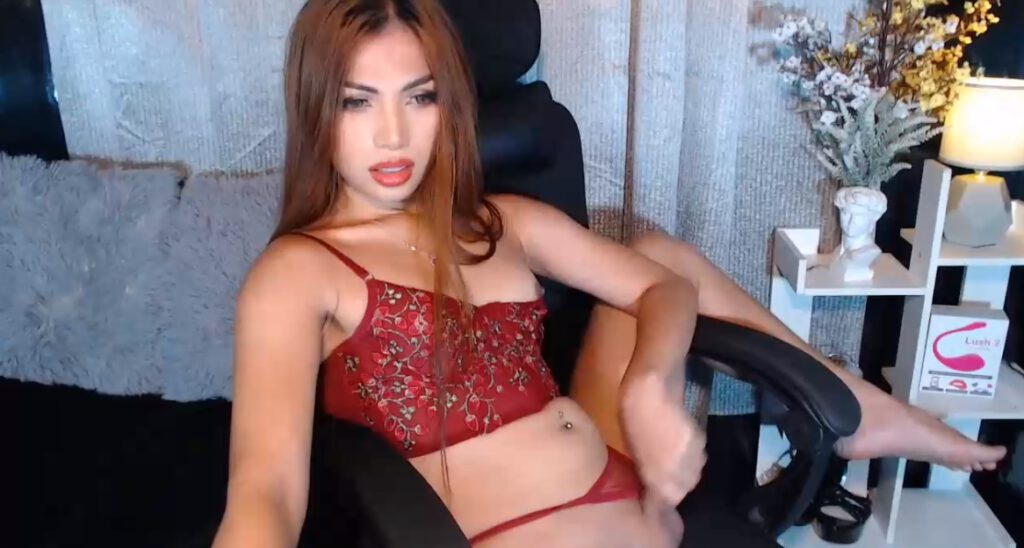 Always at a higher pace and with a little more pressure from my fingers. This is really getting to be too much for you. You straighten up like a lioness. In doing so, I make sure your cock is near my lips. I already open my mouth. You throw your head back, growl deeply and moan… I'm going to fill your mouth! The first blob of cum squirts into my face and immediately I gasp. I close my lips around that pulsing glans. Wave after wave you squirt powerfully into the back of my throat. I swallow what I can swallow and take in every drop.
After 5 huge jets, the power diminishes and some more waves of cum gently come out of your pudding cannon, onto my languorous tongue. With one hand I hold your delicious cock and with the other, I encircle your sack. My tongue makes little circles over your frenulum. Your glans still between my lips. You open your eyes and look at me sultry and say, I've never cum this good. Your cock, meanwhile, doesn't decrease in size at all. Maybe a little less hard but still as mighty big. With a smack I let the shiny glans slip from my mouth. Meanwhile, I roll you on your back and let you rest for a while. I myself loosen my legs and crawl against you for a while. I let my hand rest on your sex. Your fantastic cock immediately stiffens again. What a magnificent device. Powerful above all. From the bedside table, I take a bottle of massage oil. Because of the hot weather, it is no problem to drip this directly on your skin. I drop a few drops on your nipple courts.
Then I cover your breasts with dozens of drops of oil. Where there is no oil yet, I start an intimate massage with my fingertips. From your temples to your earlobes, your collarbones and so on towards your beautiful breasts. Gently I knead those soft but firm bulbs. I let your nipples roll between my fingers and you moan… On your tight, flat, sun-tanned belly, I also squirt some massage oil. After I've oiled your torso completely, I descend to your cock. Your horniness and erection haven't been affected by that amazing orgasm you just had. I squirt some massage oil on my hands and take your sack and rest it as if in a hammock. I gently squeeze your balls, which then shoot off between my fingers. Your cock stirs. A big drop of pre-cum wells up from your piss hole and I lick it up eagerly.

Again, some oil on my hand to then lubricate and massage that gigantic fuck cannon all over. When that delicious cock has regained its full offensive power, I sit astride you and guide your purple pleasure button toward my star. Then suddenly a television screen flashes on and I have to get my bearings on what I see. I see a giant cock, close-up, moving toward an anus. Oh, you're filming. How I don't know, but apparently you have your means for that. I feel the swollen glans pressing against my anus. Gently I lower myself further, but my virgin sphincter is still immobile. I give some counter pressure and I look at the screen on the wall. While I think that your glans has almost disappeared into my insides, the screen shows something completely different. You have brought the swollen head of your rigid member, barely 10% inside me. I experience pressure and also a little pain. Since this is my greatest fantasy,
I really want this to succeed! But I don't know how… I stay like this for a few moments and then try to lower myself a bit more. A very special sensation, a wonderful feeling and yet also a little pain… I look at the screen again. Your glans is still not completely past my resistance. Then you grab a small bottle from the nightstand, snap the neck off and say, sniff it a bit… Wow! Fierce. Try it again, you say. I lower myself and your glans flops inside, just like the first inches of your thick pole. Just a wonderful feeling and a rush of victory. That's all I feel. I look at the screen, what a horny sight. The most beautiful penis I could ever imagine is in my ass. And a penis that will probably last a while…
Slowly I move up until I feel your thick glans rim again and then I lower myself. I keep repeating this and then a little deeper each time. My sphincter tightens, my anus deflated and my rectum fully filled. I lower myself until I can go no further because my buttocks are on your legs. I look at the screen and all I can see is your balls and my butt crack. Carefully I spring up. Not just a little bit, no, I just come up 20 cm with my butt! And then I lower myself again. You have closed your eyes and are lying there enjoying that tight ass. I now fuck you at a steady pace. I let your rod slide into my ass up to your balls and then back up to the point where my sphincter is squeezing your throbbing glans. It's kind of like milking it. The same action I keep repeating but I only increase the pace. When you feel drops of sweat falling on your belly, you open your eyes. Come, you say, stand over there by that little table, with the mirror. I walk over and put both my hands on the table. You come and stand behind me and I see in the mirror that you are holding your mighty colossus with your hand. You press me forward a little so that the bulge goes out of my spine. That way my deflowered man cunt also becomes a little more accessible to you.
You briefly reach between my legs with one hand to feel what my cock is like. But in a manner of speaking, it's been standing up since you opened the front door this morning. You take the shiny tip of your monster and put it against my anus. Then I'll give you a taste of fucking, you say. And then, with a single movement, you push your entire sex into my bowels at once. Immediately you set a high pace and put your hands on my shoulders. Every time you thrust I feel you pull my shoulders towards you. At the pace of your fucking, my hard cock swings back and forth. Due to the prostate massage, my cock produces large amounts of pre-cum. This can be seen nicely in the mirror. From here we can still see the screen and you come up with the idea of taking the little camera and putting it down on the floor. So with that I can feel you thrusting into my delicious ass, I can see you in the mirror and also I can see your delicious cock disappearing into my ass all the time. From everything you can see that you are top fit but you have been pumping for minutes into an ass which has just been deflowered, which has never felt a cock before… But then there again that lioness throwing her mane into her neck…
With full force you thrust your full length into me and you roar out… Splotches of semen leave your steaming cock to leave it, deep in my bowels. Because of your second orgasm and because of our position, your giant cock soon flops out of my deflowered star. We both see it on the screen. Followed by a big blob of semen, which falls on the lens of the camera… Come, you say, lie down and you put my legs high in the air and slide a pillow under my buttocks. Then you put your lips on my still open star. I feel the tip of your tongue on the inside of my sphincter! Sensations I've always dreamed about but never felt… Then you gesture for me to turn around and I get down on my hands and knees. With your hands you spread my buttocks as far apart as possible and again I feel your tongue in my starlet.
You try to drink your own juices out of it. I am a little embarrassed. Neatly groomed but on and on man, I have hair in several places. Also in my butt crack. When I say something about it, you say that it turns you on and that it makes you very horny. Because of all the sex we have already had, I have become horny as hell and my cock and sack are on the verge of exploding. While you are licking me so deliciously, you go between my legs with your hand. My cock is rock hard and super stiff but still you manage to pull it gently towards you. From behind, you now take my cock in your mouth and start sucking me rhythmically. Meanwhile you put a butt plug in my ass. I have experimented with such toys before but this one is of a slightly different caliber. Then I can turn around again. In your hand you have a pump. I think this one is for the butt plug. You also take a vacuum pump and slide it over my stiff cock. We both measure out, 15 centimeters.
Then you start pumping with two pumps. I feel the plug in my ass swell into a ball. With the other pump, you suck air from the vacuum pump and soon I see my penis grow to 16 centimeters. You pump the ball in my ass some more and I feel my sphincter reach its maximum. You also suck some more air from the pump around my penis. When you see that it seems to be getting a little uncomfortable for me, you grab the little bottle again and I get to sniff it once more. At the same time you quickly pump both the bellows a few more times. My entire ass is filled and my cock is prune but also prune hard. Both in size and length I have never seen my cock so big! Through the transparent tube you can see how pre-cum is rising from my gigantic glans. This is the moment for you to buckle me back to the bed.
As I lie there completely helpless, you take two nipple clamps and search among my chest hair for my nipples. You tighten them until you see that it starts to hurt. Now you can lie there for half an hour. I am going to town for a while. Then the butt plug and the vacuum pump can do their work. And quickly you give them both another pump. You ask, how do you like your cock like this? It's wonderful, I say. But will it stay like this? If you only practice enough, you chuckle… And while you hold the bottle under my nose again, you pump the butt plug to an unprecedented size and my penis rock-hard!
Then you step out of the door and press the remote control, where on the screen appears a porn movie of a big-shot shemale having fun with a handsome guy… When you return half an hour later, all the attributes are removed. First, the nipple clamps from my nipples. Now the pain really comes… You drain the butt plug and pull it out of my ass. Finally, you give a few pumps to the vacuum pump and then fill it with air again. Immediately I see the size of my cock getting smaller again. Unfortunately… Next you put a rubber ring around your cock and put it in the penis pump. You pump it up in one go. Over 24 inches and you remove the glass cylinder. Then you grab me by my ass and slide me to the edge of the bed. You spread my legs and put your glans against my opened star again. And then you really go from 0 to 100 in less than a second. You thrust your rock-hard cock up to your balls into my gaping ass in one go. My cock jerks and immediately your hand is there. With a big blob of saliva you lather my cock all over and start pulling on it nicely.
The speed of your fucking rod is also the speed of jerking off. An unprecedented sensation to be pampered like this! To be filled so well in my tight ass and to be jerked off so nicely. You seem to have chosen a certain pace and will not deviate from it. From everything I know and feel that you will keep pumping in my ass and pulling on my cock until I will squirt my seed over my belly. But a moment later, when I moan in ecstasy and complete surrender that I'm going to come, you pull your huge cock out of my hole and bend over to take my maximally swollen glans into your mouth. I thrust right through to your throat. Deep from my balls and prostate, a powerful lava flow emerges, squeezing out all my male juices. You hold my cock as deep as possible in your throat and I squirt everything directly into your esophagus. Exhausted, I relax all my muscles. I nestle against you. I sniff your delicious scent and I look into those beautiful dark brown eyes.
Our lips find each other in a sensual French kiss. With your hand, you keep an eye on whether my cock is still at warp strength. Then you gesture me to come and sit between your legs. Sitting like this, my beautiful cock points towards your dark star. I let a drop of saliva from my mouth fall onto my cock and arrange it a little bit towards the firm curves of your buttocks. In the process, I put pressure on your tight sphincter. Come on darling, just keep pushing… My glans shoots in and my cock disappears to the root between those beautiful buttocks. Quietly, I start fucking you. Meanwhile, I grab your mighty dick and with my other hand I stroke your lower body. What an experience! Such a beautiful woman with such a nice cock. And then also for everything … Fucking your delicious ass and jerking off your beautiful cock, we both don't need much more … When you cum you can't do much more than sobbing. The very last remnants of cum you can still muster, you spray on your belly and breasts. At that sight I squirt my last seed, deep into your bowels. We both take the seed on your belly between our fingertips and let it slide into our mouths. You stand up and press your lips to mine. Your seed mingles between our tongues. And now it's time for the Jacuzzi, you say.