A fantastic submitted story. Many thanks. Photo for illustration, that's Tgirl Brenda
---
My name is Hank and I like to tell how I met my current "wife". For one of my friends, I was asked to organize the bachelorette day. Our group thought it would be a good idea to have the groom-to-be walk around in a wedding dress for a day. Through Craigslist, I came across an ad for a "Sissy" wedding dress in probably the right size for my friend. The appointment was made for pickup and I went there.
The door was opened by a breathtaking woman. Dark curly hair, medium length with bangs. Hell blue eyes, beautiful cheeks, red lips. A tight white blouse where her breasts almost popped out, a black pleated skirt just over her knees, black high heels. I was sold. "Hello I am Angelina you are probably coming for the wedding dress. Come in," she said and held out her hand. I greeted her and went in with her.
"Look, this is the dress. Nice and long, lace at the top and over the arms. What are you going to use it for anyway?", she asked. "Uh, for a friend, we need him to wear this on his bachelorette day," I stammered.
"But how big is your friend?" "Well, about my size and build", I stammered with an increasingly dry mouth.
Angelina suggested something exciting: "You know, Hank, try on the dress then. Then you will know if this one is also good for your friend. Better yet, I also have bridal lingerie with it. Put it on and then your friend will be in the right mood. Just get in the shower first though because if it doesn't fit, I don't want any stains on it either."
She showed me to the bathroom and took the dress. She also grabbed the bridal lingerie. A white lace corset with hold-ups and matching lace panties.
"So now the first shower, and put the stuff on as far as it goes. Then later I'll zip up the back of the lingerie and dress.¨ That was done quickly, despite taking extra care and time to wash my bottom. I didn't want to get anything dirty. Putting on the hold-ups was the trickiest part, but indeed for the closure at the back, I would need Angelina's help. I stepped out into her bedroom and somewhat embarrassed turned my back to her.
"In my opinion the right size, I'll close the back once then we'll know for sure."
And yep, it was like a second skin, the friction between the hold-ups and the fabric of the dress honestly gave me a horny feeling. Angelique had another idea: "You know, I think you have the same shoe size as me, size 41. I still have the wedding heels. Indeed, size 41, high heels, fortunately with straps at the front. It was better than pumps according to Angelique.
I stayed on the bed: "They are mostly shoes to sit in" "Yes, or they are bed shoes" she giggled.
Angelina came up with another comment. "Did you put the straps of the corset under or over the panties?"
"Over them," I said "I think that's as it should be". "Yes, but if your friend has to go to the bathroom every time, then you have to undo the straps every time. Just lift the dress and I'll help you place the straps better, then you'll feel the difference." I lifted the dress up, up to my head, I couldn't actually see anything now. I noticed that Angelina was undoing a strap. By now, I had gotten an erection from the beautiful woman and the horny feeling of the lingerie and wedding dress.
She pulled a strap under the panties and fastened it. At the next strap, I noticed that she was stroking her forearm along my erection. I tried to pretend I didn't notice. But there was no hiding the size of my cock. She also fixed the other 2 straps at the back. "Just lower the dress. Feel that this is easier to get the panties off. And plus, you can feel the straps better in your groin now. Because I think you do enjoy the feeling." I sat down on the bed and had to confess that indeed I did.
"You know what's even more delicious?", Angelina said in a husky voice. "To be stalked with other legs that also wear nylon. Just stay seated."
She grabbed a chair and sat down across from me. I saw now that she also had nylon around her legs. Such a thin quality that was almost invisible. She took off her heels and started rubbing her feet along my legs. All the way up to the edge of the hold-ups. I wanted to do the same to her, took off my heels, and wanted to follow my way up her legs. Halfway up her knee she stopped me, a looked with some panic in her eyes. "Rather not, the reason I'm selling the dress is the reason I don't dare move on now. My then-husband-to-be stood me up on the wedding day because I confessed at the last minute that I am actually a shemale. I don't want to be reminded of that rotten day."
"Wow, such a beautiful woman, a shemale, I don't believe it." "And yet it is so" she sobbed "and with natural breasts due to hormone treatment." "I won't believe it until I see it, come and stand in front of me and lift up your skirt"
I had asked for it myself, There I was on the bed in a wedding dress waiting for a surprise. She came and stood right in front of me and lifted her pleated skirt. Indeed, her shemale clit was soon visible while lifting her skirt. Despite not having a full erection, I had the impression that she was still a head taller than mine. And I don't have the smallest. I also noticed that there were already drops of pre-cum hanging on. So clearly I was not the only one who was excited.
"Can I touch you?" I managed to say. Shy and still half sad, she nodded yes.
I didn't let her say that twice. I also didn't say how I would touch her. She was standing close to my face, so it seemed best to lick off the pre-cum first and then take the cock into my mouth. "Aaaooh," she moaned. She placed her hands on the back of my head and made me lookup. Gently she said "Honey will you be careful because I haven't cum in almost 3 weeks".
Actually, she meant, she was about to cum and the load would be huge. Indeed, after lazily circling her clit a few times with my tongue, she moaned loudly, held the back of my head tightly, and squirted her sweet load into my mouth. Since I had never experienced this before and certainly didn't want to choke, I caught everything under my tongue as much as possible. To get the last drops out I went around her glans a few more times greedily. When she finished jerking, I looked at her and swallowed everything.
Text goes further below the photo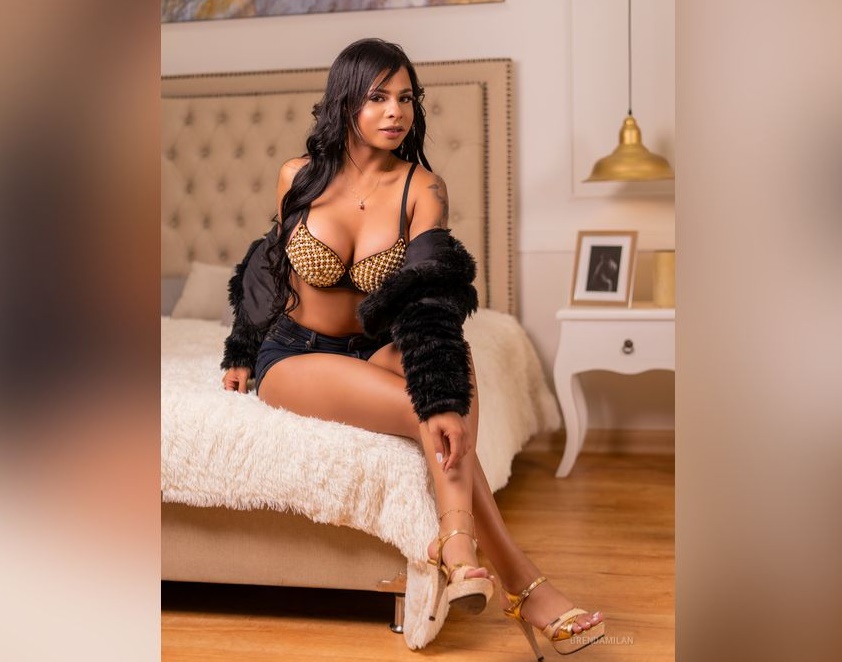 "Oh sweetheart, this means so much to me. Finally, who accepts me as I am." she said delightedly.
She continued: "You are a beautiful bride, but you should have been a girl first. I'm going to take care of that now. Just lie on your back." When I lay down, she pulled the dress up in the front and removed the lace panties.
She pulled my legs up so that my wreath was visible to her. Girl's first experience is being fingered, and Angelina was now going to do that to me. I saw that she was moistening her middle finger well with her saliva. She put the tip of her finger on my anus and slowly went in. The finger didn't hurt and in fact, gave a very horny feeling. Especially when she gently tapped against my prostate. I felt like I was about to cum. It was a few drops of pre-cum with some extra.
She whispered that girls also like to be kissed in secret places and she was going to do that now. I felt her mouth around my body placing all kinds of kisses. Her kisses that followed on my back were, of course, super horny. Suddenly I felt her puckered lips pressing down on my cock. Two sphincters on top of each other, I was in heaven. But, her puckered mouth parted and my cock automatically followed. Before I knew it, she had pressed her tongue on my cock and began to lick me passionately. I was in seventh heaven.
After she was done with her long tongue she had more in store. 2 fingers were pressed inside. Because my cave was moist it went fairly easily, but still there was something of slight pain. That definitely got worse as she wriggled 3 fingers inside. I felt that after fingering me for a while with 3 fingers, she slid the fourth in and the fingers became more spread out. I was being prepared for more. She stopped fingering me, put her elbows in my knee hollows so that my fucking cave remained easily accessible.
She whispered in my ear : "Now I'm going to make a woman out of you. I'm going to be very careful, but you're not going to get away with it. It may take a while because of course I just came. But you make me so horny, I am rock hard again. Think of it as an official marriage, you're sliding the anal ring around me wonderfully."
I felt her big purple clit come against my hole. She slowly increased the pressure. Slowly but surely she filled me completely.
"So the head is in." she said. Oh my god, really, would more follow? Yep, slowly but surely, she slid completely into my rectum. The resistance was broken. But she slid even further so that her rock-hard clit was pushing against my prostate. She slowly began pumping and together we low moaned. Every time she touched my most sensitive spot I moaned just a little louder. It was as if with each touch of my male G-spot I was cumming.
That would take a while, as she adjusted the pace from time to time, so I wouldn't get a sissygasm.
After more than half an hour, it was too much for Angelina. Her moans turned into grunts and her powerful hips caused her to pound hard against my prostate. I felt her clit pulsing against my prostate and her fluids squirting in. Her loud discharge became too much for me, and at the same time with her pulsing and I was cumming too. Incredibly, I had cum without her touching my cock. The corset was covered in my seed. She looked into my eyes in love and said "Honey soon I will lick up your seed, but first I want to be quite inside you, and intimately affirm our love. She slowly began to tongue me, her tongue greedily exploring my mouth.
After about 10 minutes, her erection was clearly decreasing anyway, but she continued to tongue me. Suddenly, I felt my fucking cave being filled with warm wetness. Angelina looked into my questioning eyes and she said : "Honey you are now complete. You have been a girl today, a bride a slut, a woman. And now I have made sure that you must also be a lady. I have indeed put my pee in you. You may now pee for me. But so you can only do that sitting down, as a real lady does."
Since then, we have entrusted each other with our hearts.